If retro kitsch makes you squeal with delight as much as I do, you will certainly get your fill with the flirty new Happy Kamper Dress by Sourpuss.  This light pink dress is printed with flamingos, Shasta style campers, martinis and more; it features a fitted bodice, double-sided v-neck, lace trim and decorative bow.  While everyone else is buried in blankets and over-sized sweaters, be the talk of the town in this head-turning number!
Of course I cannot resist offering my personal selection of accessories to really make this dress stand out, because I am a firm believer that styling is just as important as the garment.  Besides, there are so many interesting elements that can be complimented by simply selecting a certain color of shoes, a specific purse shape or even vintage jewelry discovered in a cardboard box at your local thrift store.  The challenge of being able to coordinate all of this while still offering variety is one I am always posing to myself to better understand fashion as a whole and my own personal aesthetics.  Having such a fun dress as a jumping off point certainly just makes the hunt for items that will have your body singing a harmonious tune as it flaunts the fabulous ensemble that much more enjoyable.
A bolero shrug is one of those signature pieces that I am often seeking because it can be paired with a wide range of clothes, from halterneck dresses to bullet bras and pencil skirts.  Made from Shakira satin, the Deadly Dames Bad Girl Bolero has three-quarter sleeves and their signature Vamp stand up collar, ensuring it will be a great addition for all of your most glamorous looks.
+
This darling Cropped Love Cardigan by Betsey Johnson has a lot of sassy details that make it so much more than just another cardigan.  Glittery graphics adorn the back while jeweled heart buttons accent the front.  Like the bolero above, it also has three-quarter sleeves along with a scooped neckline and ribbing on the collar, cuffs and waist.  Both items can be found on Pinup Girl Clothing.
+ 
Polka dot peep toe platform pumps with tattoo style skulls and roses printed on the sides?  They must be Iron Fist shoes, Hooters to be exact, and I enjoy just how much of the shoe is covered in dots, right down to accenting bow.
+
At first glance this may just seem like an ordinary wedge, but the bold teal hue should be an indication that there is much more than meets the eye. In fact, the Tigre and Bunny Wedge is embossed with a skull print that is a devious contrast to the innocent shade it is etched into, which allows you to play both the predator and the prey.
+
Call it cliche if you must; I could not resist posting these adorable Blue and Whiter Retro Camper Earrings, because they not only go so well with the Happy Kamper Dress but can also infuse a bit of kitschy glamour into every day outfits as well.  Made by Tailfeathers Jewerly, they are about the size of a quarter and decently priced.
+
Yes, I would love to have cocktail glasses with nude pinup girls in them dangling from my ears!  These flirty Tiny Martini Earrings by Daun Thomspon are one inch high and are made from acrylic glass.
+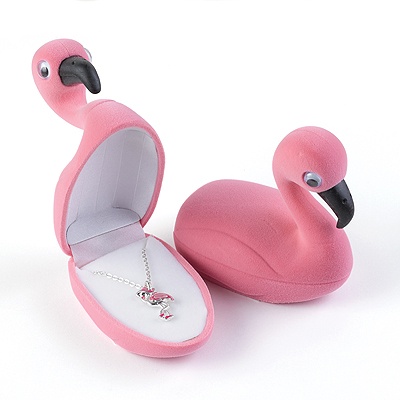 The selling point of this Flamingo Necklace is not the hand painted enameling or sparkling rhinestones, but rather the appropriate flaming-shaped velour box that it comes in, which can be used as part of your kitschy decor!
+
For a bit more subtly, try a Spoon Bracelet, made by Sileruware.  The bracelet is composed of antique spoons that have been slightly polished and a Sterling Silver flamingo charm hangs from a ring that joins the two pieces in the center.
+
Continue the vintage Ornithology theme found among the campers and martinis with a Baroque Skull Ring from Plasticland.  Made from pewter, the ring features a cast metal bird skull and unique filigree.
+
Described as "the perfect accessory for all of your favorite vintage dresses", these Burlesque Stripe Pantyhose have lots of retro detailing that set them apart from the generic striped sheer stockings.  They feature a black fishnet body with diamond, chain and pinstripes that alternate down your leg to give the illusion that they are long and lean.
+
This collection of beauty products reflects the attitude of the Happy Kamper Dress while maintaining a bit of a soft pinup girl vibe.  Thick black liquid liner draws a dramatic cat eye while a few coats of mascara make eyes open wide.  Prime lids then swipe on Abyssinia, a delicate pink with pearl sheen Matte Eyeshadow, or Heart Of Glass, an ice blue Shimmer Eyeshadow, both by NARS.
+
Just because you are wearing campers does not mean you have to don the stereotypical White Trash too-much-blush-not-enough-face canon and instead can have glowing cheeks with Miss Liberty, a soft shimmering peach Highlighting Blush.
+
Each lipstick in the trio above was selected for the personality it can help you project depending on how you want people to perceive you.  Promiscuous is a shimmering honey beige Satin Lipstick that creates a nude lip which can balance out brighter eyeshadow colors, while Viva Las Vegas is a shimmering taupe Sheer Lipstick that gives sophisticated shine.  For a more powerful pout, go with Schiap, a shocking pink Semi Matte Lipstick that is quite vivid and nourishes your lips.
+
Complete your look with one of three polishes, or combine them in a French-tip vintage manicure!  Vestale is a light pink Opaque Nail Polish, Candy Baby is a baby pink Sheer Nail Polish, and Space Odyssey is an intriguing aluminum Shimmer Nail Polish; all of them belong to Iconic NARS' Vintage  collection.